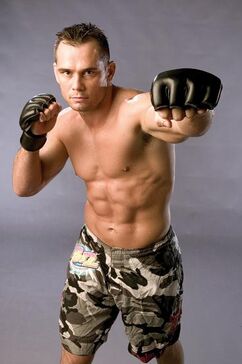 Rich Franklin
is the retired former UFC middleweight champion who has also fought extensively as a light-heavyweight. He is perhaps best known for his duo of fights against
Evan Tanner
and his duo of fights for the middleweight title against
Anderson Silva
. He coached opposite friend
Matt Hughes
on the second season of The Ultimate Fighter reality show.
He most recently faced off against former UFC light-heavyweight champion Chuck Liddell and won after an excellent first round, knocking Chuck Liddell out with five seconds left.
He recovered from a broken arm suffered during the Liddell fight and he next faced former light-heavyweight champion Forrest Griffin. Griffin defeated Franklin via unanimous decision after a great fight.
Franklin was next set to face Pride veteran Antonio Rogerio Nogueira. Unfortunately Nogueira was injured just a few weeks before the bout and the entire fight was scratched completely from the UFC 133 card.
Franklin was next rumored to face former UFC light-heavyweight champion Tito Ortiz. Instead, Franklin was forced to undergo shoulder surgery and was out for a while. It was most recently announced that Franklin would be out until summer 2012 unfortunately. He was again rumored to face Antonio Rogerio Nogueira.
After recovering, Franklin announced that he had dropped back down to the UFC's middleweight division to face former Strikeforce middleweight champion Cung Le. After former UFC light-heavyweight champion Vitor Belfort suffered a broken hand in late May 2012, Franklin stepped out of the Cung Le fight -- being replaced by Patrick Cote -- and stepped in for a rematch of his 2009 bout with Wanderlei Silva. This time around the fight would be five rounds however, main-eventing the UFC 147 card.
Franklin defeated Wanderlei via unanimous decision after an exciting back and forth war. He then faced Cung Le in the main event of the UFC's first China show in November 2012, losing via first round knockout. Franklin stated that he was contemplating retirement for the first time.
After over a year of inactivity Franklin announced in late November 2013 that he would be retiring from the sport of mixed martial arts -- after one more fight inside the Octagon. Rumors stretched from a rematch with Dan Henderson at light-heavyweight to a fight with Michael Bisping at middleweight.
In April 2014 Franklin stated that he wanted a third fight with fellow former UFC middleweight champion Anderson Silva as his retirement fight.
Instead, around three years after the Le fight, Franklin officially retired from MMA in late September 2015.