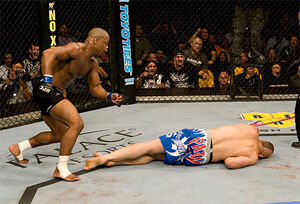 The fight was for the number-one contendership for the UFC light-heavyweight title: former champion Chuck Liddell versus then-undefeated Ultimate Fighter winner Rashad Evans with the winner getting the first crack at newly-crowned champion Forrest Griffin. Evans was an underdog coming into the fight. Many gave him a chance to win, of course, but by utilizing his wrestling and winning a decision. No one expected the actual outcome, at least not from Evans.
The Fight
Edit
The first round began and they touched gloves. The fighters circled wide. Rogan began the opionated commentary quickly. Liddell cornered Evans and landed a strike. Evans circled away and began changing stances. Liddell threw a big right hand to Evans. They circled once more. Evans threw a body kick. The crowd began chanting 'Chuck'. Two minutes remained in the fight. Not much action had occured. Scattered boos began. Evans landed a leg kick, moving out of range. He changed stances, apparently attempting to throw off Liddell. Liddell had a tiny cut over his right eye. Thirty-five seconds remained in the first round. Liddell cornered Evans and landed an uppercut and then another. Evans wisely escaped. Liddell landed another strike and then a leg kick. Liddell was cut badly under his right eye. Greg Jackson's advice for Rashad in the corner was 'keep moving, keep making him miss, the moving is pissing him off.' Meanwhile in Chuck's corner, the cut men attended to Liddell's bleeding cheek.
The second round began. Liddell threw a good kick and they began exchanging. Evans landed a left hook and a right hand. Four minutes exactly remained in the second round. Liddell landed a right hand. Evans landed a left-right and then another left hook. Evans appeared to be getting more confident and circling more bouncily. With three minutes and ten seconds remaining in the second round, Rashad came over the top and hit Liddell in the chin, knocking him out. Liddell had moved forward with an uppercut and Rashad had come over the top.