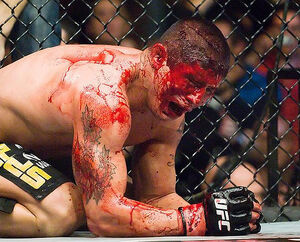 UFC lightweight champion Sean Sherk was stripped of his title belt after both he and a vanquished challenger, Hermes Franca, tested positive for steroids directly after the fight. The vacant title was put on the line between B.J. Penn, the Prodigy and former welterweight champion, and Joe Stevenson, the welterweight winner of the second season of The Ultimate Fighter.
The Fight
Edit
The first round began and the fighters came out strong, touched gloves, but Penn dropped Stevenson with an uppercut literally within five seconds. Stevenson desperately attempted to defend as Penn pounded on him mercilessly, looking to finish the fight quickly. Stevenson pulled guard as much as possible as Penn pounded on him for literally over a minute. Meanwhile, the commentators calmly chatted about Penn's excellent Brazilian jiu jitsu. Stevenson looked shocked and worried as Penn repeatedly postured up and began passing his guard and shoving him up against the cage. Penn repeatedly got Stevenson's back, pressing him up against the cage consistently and then transitioning to side control. Stevenson impressively quickly moved it back to guard. With about thirty-eight seconds left in round one, Penn threw that fateful elbow. Joe touched his glove to his forehead and immediately blood began spraying everywhere. That elbow cut him wide open. The rest of the round continued, and Stevenson stood to allow the doctor to examine him. The replay was shown: just a glancing elbow, enough power to open the cut. The first round ended.
The second round began. Stevenson came out with a determined look in his eyes, dripping with blood. They exchanged strikes for a few seconds and Stevenson threw a big elbow. Stevenson moved around fluidly, apparently attempting to avoid the fight going to the ground once more; BJ's domain. Penn, however, possessed excellent standup as well. After a few minutes of striking, Herb Dean stopped the fight once more to allow the doctor to take a second look at the cut. Penn leaned impatiently against the cage, meanwhile. Stevenson went back to his corner and the fight resumed. With about two minutes and thirty-eight seconds left in the second round, Penn staggered Stevenson with what looked like two bombs and sent him wavering towards the fence. They went to the ground, Joe blindly flailing, and Penn immediately took Stevenson's back. Stevenson quickly rolled over, unfortunately giving Penn the mount, however. Penn once again got Stevenson's back, and Stevenson once again rolled over. Penn threw another elbow and hit him with a big left, rolled Stevenson over, and went for the rear-naked choke. With fifty-eight seconds remaining in the second round, Stevenson tapped out from the choke and B.J. Penn became the lightweight champion.